'For a long time, I wanted to do something similar to what we are doing now. However, I clearly realized that it requires someone with whom our views coincide', says entrepreneurial mom Ramunė Vileniškienė, who lives in Anyksciai, Lithuania. Together with Rasa Strumilienė, who is based in the same city, they started a handmade linen business.
A business born out of necessity
Although Ramunė and Rasa have only been in business for six months, they can see that the interest in linen production is growing. So, they have numerous plans for the future.
The idea to sew hand-embroidered linen clothes, accessories, and home textiles came to Rasa during the quarantine. Especially when the restrictions of the pandemic have changed the activities of many companies and people. Until then, Rasa, who has been making albums, boxes, and other small holiday paraphernalia, felt that when the holidays decreased in numbers, her orders also stopped.
'I have been doing handicrafts for about 14 years since I went on maternity leave. Therefore, of course, the idea arose to learn some new craft. Although you can count on your fingers how many times I have held a needle in my hands, I decided to learn to embroider so that I could apply these skills to the postcards, albums, and other products I make,' says the interviewer.
Since the quarantine lasted for a long time, Rasa accumulated a lot of embroidered rags. Looking at them, the woman got the idea to start making aprons and towels, which, like her other products, could become a great gift.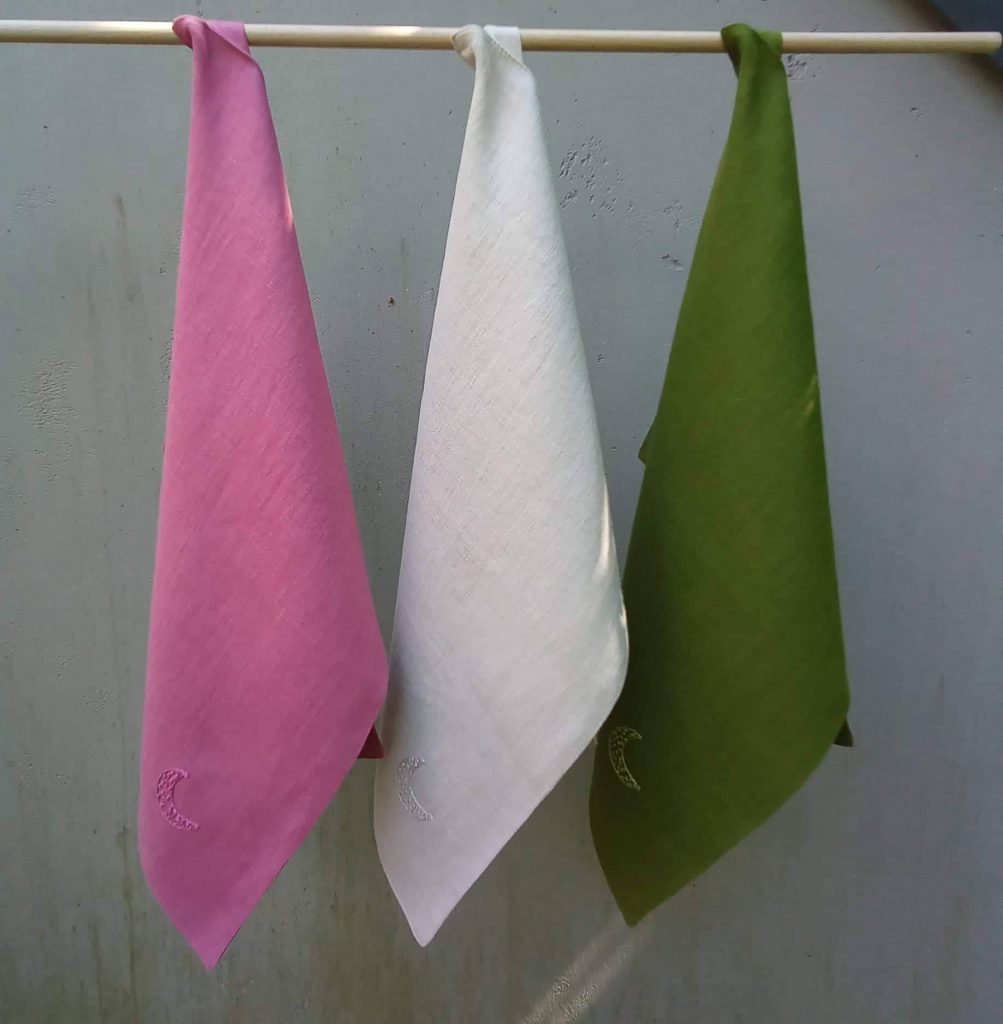 It was a coincidence
Rasa hired a seamstress to implement her ideas. After working for a while, the seamstress changed her plans, so the creators had to look for a new person. That's how she met Ramune.
Having graduated in business management, Ramune works as an administrator at Anyksciai company, but in her spare time, she sculpts from clay, knits, sews, and also does various other crafts. A mutual acquaintance recommended her as a good seamstress to Rasa.
'From the first time we spoke on the phone, it appeared that we would get along. And while working, it turned out that we both have similar tastes, and business vision, and in general our opinions coincide on a number of issues. That's how we started thinking that we would like to develop the 'Metro de lino' brand together', – recalls Rasa.
Dreams about expanding the assortment
So far, the 'Metro de lino' range includes clothes and accessories for women and girls. These are mostly dresses, but also matching ensembles of blouses, shirts, pants, skirts, and scarves. Especially for girls, the duo created handbags and crowns.
However, entrepreneurial moms from Anyksciai have already received requests to decorate men as well.
We have numerous plans. Unfortunately, we lack the time to implement them. The nearest plans are to sew not only this and that for men, but also more dresses with long sleeves and to convince our customers that linen is not only a summer fabric.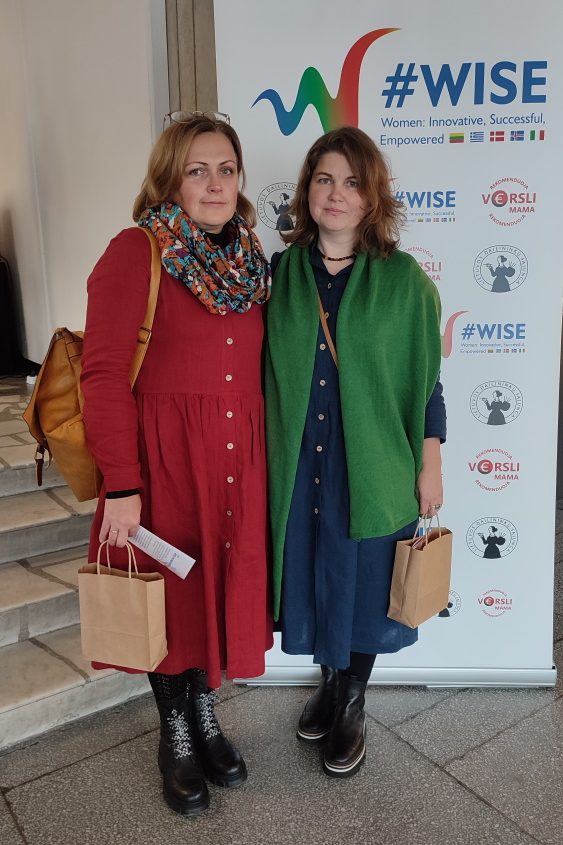 Encouraging slow fashion
Entrepreneurial moms think it is important to develop a responsible business. They often remind their clients who are looking for sustainability what great material linen is.
'Sometimes people are surprised by the price of linen clothes, but everything has an explanation. First of all, linen is a strong material, so the clothes made from it will last a long time, at least three seasons', the advocates of slow fashion point out.
Sometimes, someone complains that linen products have faded, and lost their shape. However, when asked who made these clothes, it turns out that they came from China or from Turkey. We sew from high-quality, Lithuanian linen, which we purchase at the factory in Panevezys.
Those interested in Metro de lino products should also keep in mind that they are sewn and embroidered by hand, which takes much longer than mass production.
'We try to do the seams responsibly, so that nothing annoys the buyer, and do everything as if we were sewing for ourselves. We are both fans of natural fabrics, having personal experience with how synthetic materials are not suitable for our skin. We are happy that our buyers understand that quality material and handwork cost more than synthetic products', the slow fashion designers add.
In order to work more ecologically and leave as little garbage as possible, entrepreneur moms also want to enrich the Metro de lino collection with hair accessories and home decorations from linen scraps.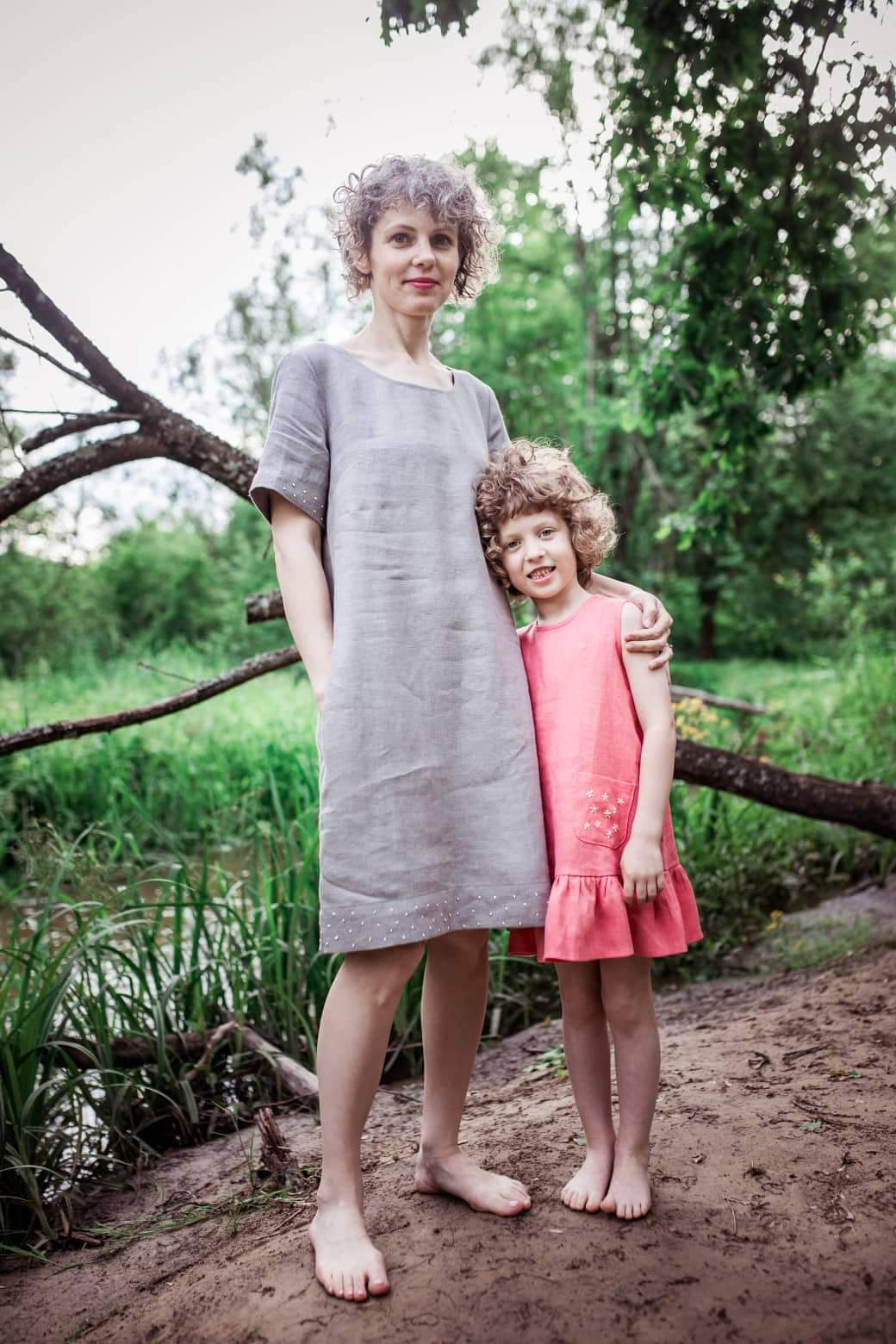 Distance is not an obstacle
Artisans get creative ideas not only by communicating with their customers during fairs but also by participating in #WISE, an adult education project organized by the NGO Versli mama and funded by the European Commission's Erasmus+ program. Its target group was creative and artistic women who see their creative activity as a source of financial independence.
Rasa and Ramune, who participated remotely in the creative women's entrepreneurship training, are happy to have found more sustainability-like-minded people, for instance, getting to know the backpack brand Džy Šmutkės. They got the confirmation that their business goes the right direction.
Because of the extensive workload and the considerable distance to the Lithuanian capital where the training took place, designers were able to participate in the lectures only remotely or by viewing video footage posted on the YouTube platform. On the other hand, they admit, it is very convenient for project participants from remote areas.
'It's nice that such training is taking place and that we can participate in it. This is a really cool and useful project for those who want to turn their favorite activity into a source of financial stability. Thanks to the training, we received a lot of useful information about the ETSY platform, where we are starting our activities little by little. We also learned relevant and necessary information about introducing ourselves as creators. In order to become a well-known brand, it is really important to represent yourself correctly', – the creators of slow fashion share their impressions of participating in the project.
Studio Metro de lino is located in the Art Studio of the Anyksciai Arts Incubator, Biliūno str. 53, Anyksciai. 
For more Metro de lino products:
https://www.facebook.com/Metrodelino
https://www.instagram.com/metrodelino/  
https://www.etsy.com/shop/MetroDeLino?ref=shop_sugg
Illustrations from the personal archives of the interviewees and the Metro de lino studio
Text by Karina Vladičkė