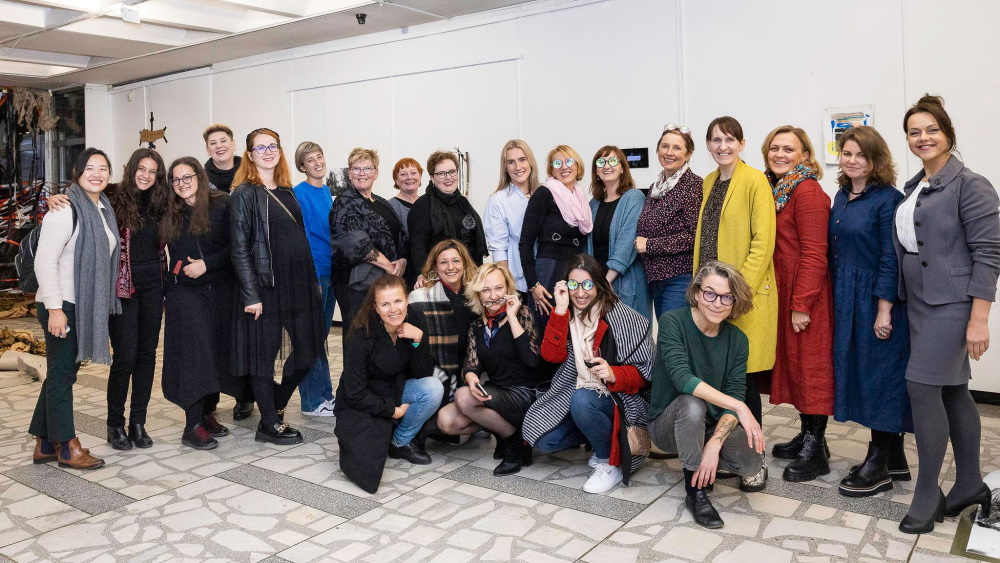 On October 6-12, 2022 the Artist's Union Gallery, located in Vokiečių st. 2, Vilnius, hosted the international exhibition of NFTs created by women for the first WISE WOMEN WEEK. The first exhibition of its kind merged art, technology, and international cooperation as Lithuanian, Icelandic, Italian, Greek, and Danish authors presented their works.
The non-fungible token (NFT) art based on blockchain technology is a relatively new type of digital creativity, fueled by the general interest in modern technology. NFT is considered an extremely democratic form of art, as it provides opportunities for both professionals and amateurs who seek to reveal and experience art in a different way.
Many people are still getting comfortable with this art form. Therefore, according to the organizers of the WISE WOMEN WEEK, the exhibition of NFTs created by women is a unique experience for those who until now knew nothing about non-fungible tokens and the opportunities they provide for developers.
People don't understand NFTs, Metaverse, and crypto today in the same way they didn't understand online shopping in 1995.
Anuj Jasani, entrepreneur, and founder of online business platform BudgetOK™
Mrs. Kotryna Dzhilavyan, director of the Artists' Union Gallery, says that NFT authors were given the freedom to decide which works to present in the exhibition, so the exhibition is not limited to one theme. The exhibited works and their main ideas vary from political art to states of the inner world, from socially engaged statements to metaphors of femininity or motherhood.
Women from 5 different countries, including Lithuania, Denmark, Greece, Iceland, and Italy, exhibit their works at the first WISE WOMEN WEEK. All of them were united for a joint exhibition by the #WISE adult education project of the Erasmus+ program, aimed at increasing the entrepreneurship of creative women, which is implemented in Lithuania jointly by the Artists' Union Gallery and the NGO Versli mama.
However, not all participants in the exhibition revealed their identities. Some introduced themselves under pseudonyms and no one knew who was behind them. It was speculated that a very famous artist might be hiding there.
The concept of presenting the exhibition might seem non-traditional for strangers even though the artworks on the screens are a golden standard for shows of this kind. Some works of art were created exclusively by computer and represented the so-called digital art. Still, others were more traditional, painted on canvas, or created using collage or graphic techniques.
The visitors could find a QR code next to each piece's information note, which after scanning linked them to the virtual platform SolSea. There, knowing the rules of the NFT world game, each can purchase a specific work of art.
The WISE WOMEN WEEK hosted NFTs created by #WISE project participants Anna Fríða Jónsdóttir (Iceland), SKaDI (Lithuania), Eglė Stripeikė (Lithuania), 5y7j…9Gmm (Denmark), Pied Piper (Denmark), Anna Giordano (Italy), Celia Sotiriou (Greece), Christina Skaligkou (Greece).
According to the organizers of the exhibition, NFT is a unique opportunity to enter professional art spaces for all those women who do not belong to official professional organizations of artists. In addition, similar exhibitions provide alternative ways to promote themselves and become more known, encouraging creative women to look for non-traditional exhibition forms and solutions, increasing their digital savvy as well as opportunities for additional income. The international cooperation of the #WISE project clearly showed that this is relevant for creative women in all countries because they earn less and their creative careers often develop more slowly than men.
Text by Saulene Peciulyte